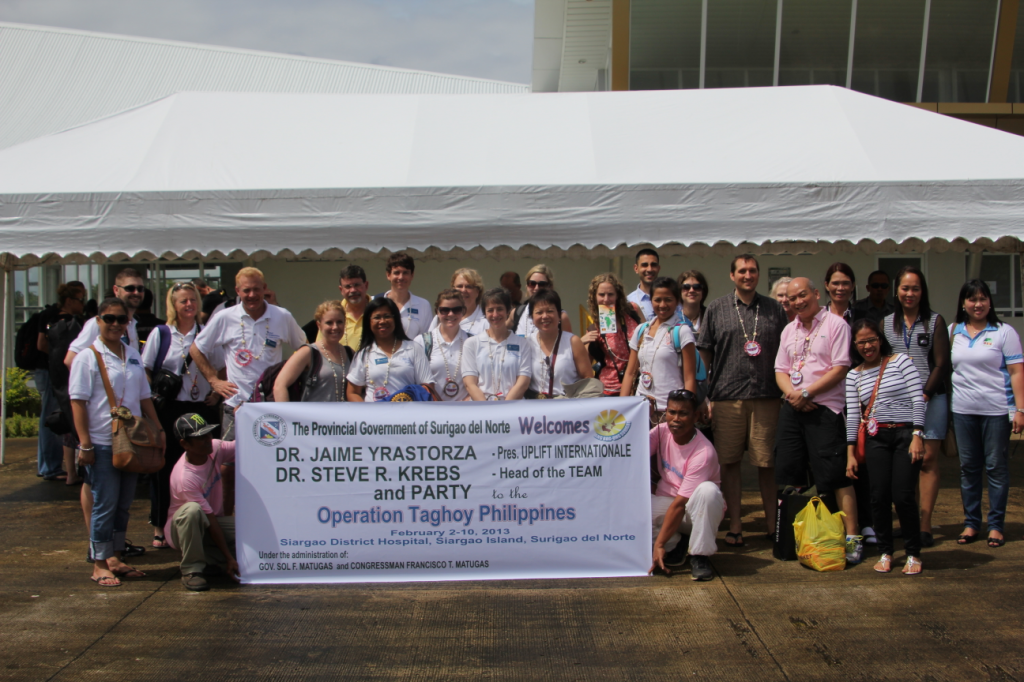 Uplift Internationale's Operation Taghoy-2013 conducted the mission from February 1 to 10. The project activities were performed at the Dapa District Hospital on Siargao, a small island off the northeast coast of the big island of Mindanao and home to 40,000 inhabitants. The Mission Team accomplished a record 115 surgery procedures during the eight days of activities; some of the children had ferried from adjacent islands to receive the mending care.
The 40-member volunteer Mission Team was recruited from Colorado, New York, Arizona, New Mexico, Florida, Illinois, Missouri, Kentucky, Iowa as well as China and the Philippines. Members were accommodated in housing facilities of adjacent communities that, during the autumn of the year, host participants of the well-known annual International Men's Surfing Competition events.
To Dr. Myroslav Harasym, anesthesiologist and wife Meriam Dominos go UI's special thanks. They initially introduced the Emissary Team to Meriam's beautiful home island and their important officials, months earlier; coordinated the multiple requisite logistical preparations for the mission, including the recruitment of a plethora of children in need of the mending care; and, helped organize the OR and its associated equipment and supplies. UI also extends deep gratitude to Governor Matugas, the Mayor of Dapa, and the Hospital Chief Dr. Digal for their support and hospitality were invaluable. Also, the Rotary Club of Surigao, by willingly extending Operation Taghoy their backing offshore, UI is thankful.
"Inspiring the Taghoy Committee to function for the common goal, attending to the multi-faceted aspects of the mission preparations, and overcoming hurdles to achieve cohesion of the Mission Team at work," Dr. Yrastorza points out, "are keys to a successful mission. Dr. Steve Krebs, as Head of Mission, has been exemplary!"
Mission Team
Anesthesia
Myroslav Harasym, M.D. – New Mexico
Dick Hendershot, M.D. – Colorado
Nikhil Patel, M.D. – Indiana
Zvi Jacob, M.D. – New York
Kenneth Heller, M.D. – Texas
Jonathan Tan, M.D. – New York
Sang Le, M.D. – New York
Surgeons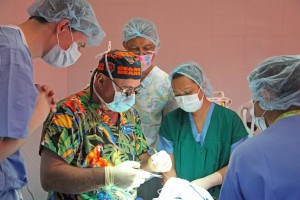 Elliot Duboys, M.D. – New York
Jim Bertz, D.D.S., M.D. – Arizona
Jerry Capoot, M.D. – Colorado
Tom Williams, D.D.S., M.D. – Iowa
Hector Santos, M.D. – Philippines
Aaron Wallender, D.D.S., M.D.– Kentucky
David Shokrian, M.D. – New York
Pediatricians
Steve Krebs, M.D. – Colorado
Edra Weiss, M.D. – Colorado
Outreach
Gina Luttrell – Colorado
Megs Lunn – Philippines
Meriam Dominos – New Mexico
Beverly Hiller – Texas
Marysel Nicholas – Philippines
Pam Drilon – China
Kathrine Wallender – Kentucky
Shane Burgess – Colorado
Claire Anne Dulpina – Philippines
Yeng Dulpina – Philippines
Liwaya Tornalejo – Philippines
Nurses
Sally Capoot, R.N. – Colorado
Mary NcNelis, R.N. – Colorado
Nora Mickelson, R.N. – Colorado
Sara Sikorsky, R.N. – Colorado
Erin Trout, R.N. – Colorado
Jeanette Smith, R.N. – Colorado
Caroline Cox, R.N. – Colorado
Leslie Burgess, R.N. – Colorado
Kirk Leamons, R.N. – Colorado
Jose Bautista, R.N. – Florida
Anna Hollander, B.S.N. – Colorado
Shirlee Martin, R.N. – Colorado
Gheza Mae Ibardolza, R.N. – Philippines
Edith Pasion, R.N. – Colorado
Cristina Busano, R.N. – Philippines
Jane Dominos, R.N. – Philippines
Ivory Burdeos, R.N. – Philippines
Rhena Bonotan, R.N. – Philippines
Rachel Balane, R.N. – Philippines
Rollytte Toralba, R.N. – Philippines
Chelle Moreno, R.N. – Philippines
Rhe-j Jalocon, R.N. – Philippines
Christine Flores, R.N. – Philippines
John Geo Fuentes, R.N. – Philippines
Marvee Flores, R.N. – Philippines
Speech Therapist
Photography
Scott Angus – Missouri
Brett Scott – Colorado