Read about our 2011 Mission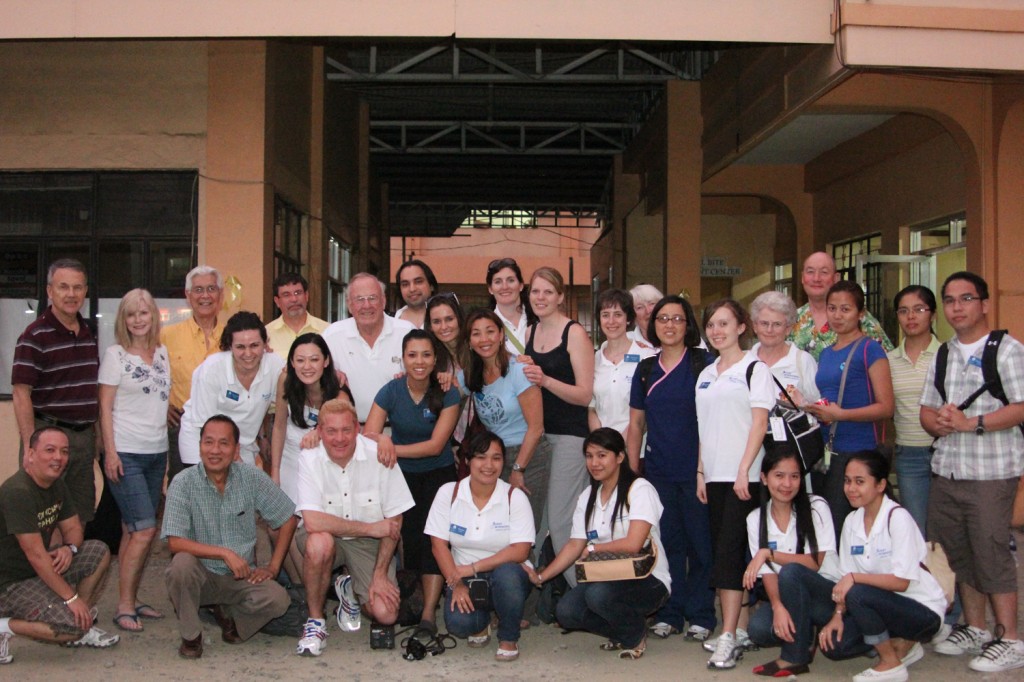 Uplift Internationale enters its third decade of consecutive missions this coming February. Last year an international cast with members from as far as Bahrain and the British Isles returned to the city of Roxas on Panay Island. The 2010 mission was a single site 10 day affair to the same site visited in 2009. Returning to Roxas allowed completion surgery on multiple complex cases started the year prior in addition to an entire phalanx of new cases.
Taghoy Mission 2011: Roxas City Summary Statistics
Length of Mission: 5 surgical days (Monday 2/21 – Friday 2/25)
Surgical teams: 3 surgical tables/teams (Mon-Thu); 2 surgical tables/teams (Fri)
Nine Uplift Internationale (UI) teams (i.e., Registration, Demographics and Social History, Health and Family History, Pediatric Exam, Craniofacial Exam, Anesthesia, Speech Screening, Dental, Scheduling) evaluated 40 patients during the course of the 5-day period. Most patients were screened during the first day of the mission.
Speech therapy/post-operative instructions and care were provided to all palate repair patients by Resy Pison, a local Speech Therapist.
Of the 40 screened patients, 3 (7.5%) were not provided surgery primarily due to the presence of a comorbid condition (i.e., Tuberculosis, Pneumonia, and high fever). One patient was referred to a local dentist for orthodontic work in order for the patient to be eligible for surgery at a later date.
Of the 37 remaining patients, 5 (13.5%) had non cleft-related procedures performed (i.e., non primary Cheiloplasty and Palatoplasty procedures). These procedures included: repair of Macrostomia, lip revision, hard palate fistula repair, Zplasty and mucosal wedge excision and repair of unilateral left alveolar.
Of the 32 remaining patients:
Avg age = 6.5 yrs; range 4 months – 24.6 years
Gender: 46.9% female
21 (65.6%) had a primary Cheiloplasty procedure performed solo
11 (34.4%) had a Palatoplasty procedure performed solo
No (0.0%) combination Cheiloplasty/Palatoplasty procedures were performed
Of the 21 primary Cheiloplasty patients:

Avg age = 5.0 yrs; range 4 months – 15.3 years
Gender: 47.6% female
Cleft Type (left/right only; N=10): 30.0% Complete; 70.0% Incomplete
Cleft Palate Present (based on all 21 cases): 57.1%
7 (33.3%) presented with a left sided cleft:

Avg age = 6.1 yrs; range 8 months – 14.7 years
71.4% female
Type: 28.6% Complete; 71.4% Incomplete
Cleft Palate Present: 28.6%

3 (14.3%) presented with a right sided cleft:

Avg age = 5.7 yrs; range 4 months – 15.3 years
33.3% female
Type: 33.3% Complete; 66.7% Incomplete
Cleft Palate Present: 33.3% Yes

11 (52.4%) presented with a bilateral cleft:

Avg age = 4.1 yrs; range 5 months – 12.6 years
36.4% female
Cleft Palate Present: 81.8%

Of the 11 Palatoplasty patients:

Avg age = 9.4 yrs; range 2.5 – 24.6 years
Gender: 45.5% female
None (0.0%) of the patients had Cheiloplasties performed during the Palatoplasty procedure
Three (27.3%) patients had Cheiloplasties previously performed.
Operation Taghoy 2011: The Mission Team
ANESTHESIA
Jonida Zeqo, MD
Julius Arches, MD
Revien Dela Cruz, MD
Sue Hewitt, MD
Zvi Jacob, MD
SURGERY
Sara Runnels, DMD, MD
Oscar Hilario, MD
Gerald Capoot, MD
Elliot Duboys, MF, FACS
Lawrence Herman, DMD, MD
Tony Mir, MD
PEDIATRICS
Steve Krebs, MD
Alexandra Lu, MD
SPEECH THERAPY
RN / TECH / PA
Annie Hardwick, RN
Carrie Molloy, RN
Hannah Jamsay, RN
Kirk Leamons, RN
Lissa Dacoscos, RN
Nora Bacalzo
Sally Capoot, RN
Susie Wood, RN
OUTREACH
Melrose Lunn
Kerri-Ann Appleton
Christine Flores
Gheza Mae Ibardolaza
Gina Luttrell
Ivana Garajova
John Geo Fuentes
Jonathan Savelle
Marvee Flores
Rhe Jalocon
Scott Angus