Freileen A.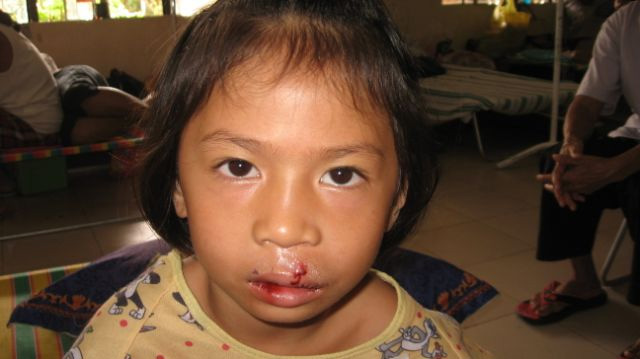 Freileen A. is a six year old girl with a cleft lip. She is now in kindergarten. She is a cute girl who loves to dance who lives on Praledel Street in Roxas City near the Provincial Memorial Hospital. Their house is made of concrete and she lives with her parents and four siblings. She is one of two girls in the family and has three brothers. Her mother is a housewife and her father sells motor parts in their shop. Her father earns approximately 500 pesos per day ($12).
Her family heard about Uplift Internationale on the radio. Freileen had her first cleft lip repair, but needed an additional surgery. She received her second cleft lip surgery with the Uplift Internationale as well.
Her family states that they were embarrassed at first to have a child with a cleft lip, but they learned to accept the condition and supported Freileen in every way possible. Her mother Aileen A. is very happy that Uplift Internationale helped her child again and is hopeful that this surgery will make her daughter more beautiful so that her classmates will no longer tease her. "Salamat gid sa Uplift" says her mother, which means "Thank you very much Uplift."
---
Jeugen E.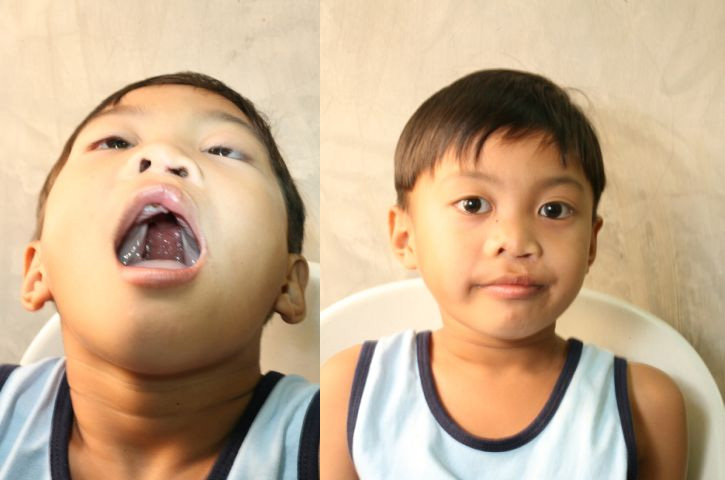 Jeugen is a 6-year-old boy with a cleft lip and cleft palate. He and his family live in a small nipa hut in Tansa Bato Panay, Roxas City, near the hospital. He is an only child. His mother is a housewife and her father works as a Promo Boy at Gaisano Mall, Roxas City. His father earns two hundred fifty pesos per day ($6).
When Jeugen was born, his father had a hard time accepting the condition of his child. But his parents have accepted his condition and do whatever possible to help him. Jeugen is a happy child but it is evident that he has been teased and ridiculed often by other children.
Jeugen received a cleft lip surgery through Uplift Internationale in 2010 and this year he received another surgery for his cleft palate. At first the family was hesitant to him for surgery because they thought that Jeugen was too young. The family also did not have the money so they were fearful to bring him for surgery because they could not afford to pay anything for an operation.
The family extends their thanks to the Uplift Team and hopes that Uplift Internationale will not stop helping other children to smile perfectly!
---
Arnold D.
Arnold is a 20 year old boy with a cleft lip and palate. He lives in a concrete house in Linampungan Pontevedra Capiz with his parents and his nine siblings (four girls and five boys). His father is a farmer and his mother is a housewife. His older brothers work outside their home to financially support the family needs.
Arnold is a graduate of elementary school but was not able to pursue additional schooling because of his condition. His classmates always made fun of him so he decided to stop going to school and to go to work.
Arnold is the 9th child in his family and works as a caretaker in Milibili, Roxas City. His boss told him about Uplift Internationale. He had his cleft lip repair completed when he was 3 years old but was not able to get his cleft palate repaired. He was finally able to undergo surgery for his cleft palate repair with Uplift Internationale during the 2011 Uplift Mission.
After his surgery Arnold does not plan to go back to school. He stated that this surgery will make him more confident in his work and social life. Arnold and his sister are really thankful for the surgery from Uplift Internationale.
---
Katrina B.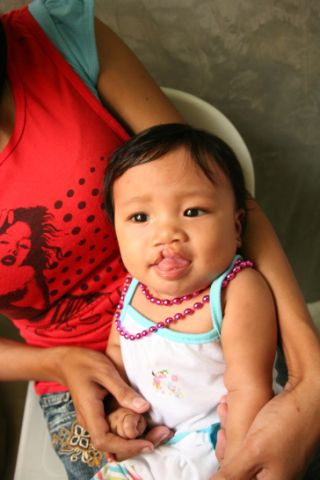 Katrina is a 4-month-old baby who lives with her mom in a nipa hut in Olotayan, Roxas City.
She is an only child and her mother has seven relatives who live with them. Her mother is a single mom and jobless. The grandparents provide are employed and provide for both Katrina and her mother.
Her mother heard about Uplift Internationale from one of the staff of the hospital. Katrina's condition makes it very difficult for her mother to feed her. Whenever her mother is out, people ask her what is wrong with her baby and ask why she has a cleft lip. Her mother does not know how to respond to these questions.
After the surgery, Katrina's mom is hoping that Katrina will look better and will be able to be fed easily. She thanks Uplift Internationale for helping them and making her baby better.
---
Angelina M.
Angelina M. is an 8-year-old girl living in Tinigban, Panit-an, Capiz. She and her family traveled one hour from their house to the Roxas Memorial Hospital where she received her surgery. She is one of five children; 2 girls and 3 boys. Their home is a nipa hut.
Angelina's father is jobless and her mother is working in Manila as a housemaid and has a salary of P2,500.00 per month ($59 U.S. Dollars). Her father heard about Operation Taghoy with Uplift Internationale in their Barangay (Village) through some officials.
Angelina's family had accepted her condition, but often they had difficulty understanding what she was saying. It was nearly impossible for her to attend school because she was mercilessly teased by her classmates.
After her surgery, the family was overjoyed. They said that her lip looks great and they are hopeful that it will improve her speech. Angelina and her family say THANK YOU.